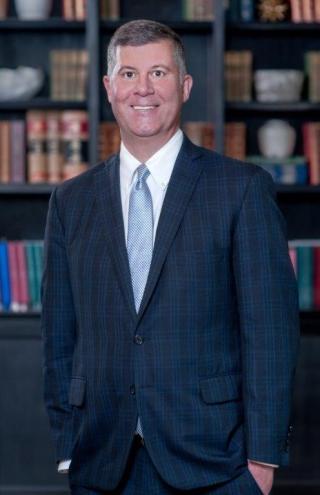 David M. Bienvenu, Jr.
Founding Member
David M. Bienvenu, Jr. is a founding member of our firm and practices in the area of general litigation with an emphasis on toxic tort, mass tort/class action, insurance coverage/bad faith, product liability, and commercial litigation in both federal and state court.
David has represented Fortune 500 companies and individuals in litigation related to asbestos premises liability, recovery of commercial losses, business disputes, groundwater contamination, product liability, and toxic releases in the environment and workplace. David has served as first chair trial counsel in numerous jury and non-jury trials both inside and outside of Louisiana. David has argued numerous appeals at the Louisiana Supreme Court, the Fifth Circuit Court of Appeals, and all appellate courts in Louisiana.
David's area of expertise also extends to the creative defense of class action and other complex litigation that has involved his participation as trial counsel and appellate counsel in cases as diverse as civil rights litigation, toxic tort litigation, commercial litigation, and insurance coverage litigation.
David is highly respected for his aggressive and creative litigation strategies and has managed hundreds of individual cases and class actions in his thirty years of experience.
David has been recognized in the Best Lawyers in America since 2007 and Super Lawyers since 2010. He is a frequent lecturer on issues of complex and mass tort litigation for the Louisiana Association of Defense Counsel, the Louisiana State Bar Association, and the LSU Law School. In 2012, David spoke at the Harvard Medical School on the topic of asbestos-related disease.

Litigation Experience:
Defense Verdict in East Baton Rouge Parish Premises Liability Jury Trial - During April, 2021, David served as co-lead counsel in an asbestos premises liability jury trial for almost three weeks. The plaintiff was retired pipefitter employed by our client who contended that his work at our client's chemical manufacturing facility exposed him to asbestos between 1969 and 1975, causing him to develop malignant pleural mesothelioma. The plaintiff asserted both negligence and strict liability claims against our client. The plaintiff passed away on the third day of trial, but the trial continued with the trial. After thirteen trial days, the jury found that our client was not negligent in providing the plaintiff with a safe place to work and that our client was not strictly liable for the plaintiff's alleged exposure to asbestos on its premises. For the full article published by HarrisMartin Publishing, see https://www.harrismartin.com/.../la-jury-reaches-defense.../ or https://www.facebook.com/Bienvenu-Bonnecaze-Foco-Viator-LLC-126273844147855.
Transfer of Venue Following Successful Emergency Supervisory Writ Application - In May of 2021, the Bienvenu Bonnecaze team composed of David M. Bienvenu, Jr., John Allain Viator, M. Jade Avant, Thomas C. Naquin and Samantha M. Kennedy, together with co-counsel, Chehardy Sherman Williams, obtained a favorable transfer of venue ruling from the Louisiana Fourth Circuit Court of Appeals, following our client's application for an emergency supervisory writ of review. The Fourth Circuit Court of Appeal reversed an order from the Civil District Court for Orleans Parish, which retained venue over an asbestos premises liability case set for trial on April 26, 2021, over objection by our client. The Court of Appeal ruled that the dismissal of two defendants named originally in the lawsuit made venue in Orleans Parish no longer proper. In its May 3, 2021 decision, the appellate court lifted the stay in the case and remanded the matter to the trial court for further proceedings, namely the transfer of the case to East Baton Rouge Parish. For a copy of the decision, go to https://www.la4th.org/opinion/2021/4867517.pdf .
Appellate Victory - David Bienvenu and Jade Shaffer recently obtained an appellate victory for our client in a benzene exposure case. Our firm represented the premises owner and former employer of the plaintiff. The plaintiff alleged that his multiple myeloma was caused by occupational exposure to benzene while working as a shift foreman from 1964 through 1983. The plaintiff was diagnosed with multiple myeloma in March 2015 but did not file suit until three years later, after seeing an advertisement from an attorney in a magazine regarding benzene in June of 2018. On appeal, we argued that the plaintiff's claim prescribed in March 2016, one year after his diagnosis, as the diagnosis constituted "constructive knowledge" under Louisiana law sufficient to commence prescription. The Louisiana First Circuit Court of Appeal upheld the District Court's ruling, sustaining our Peremptory Exception of Prescription, and dismissing the claims against the defendants.
Defense Verdict in King County, Washington - In October of 2019, a trial team led by David Bienvenu was successful in obtaining a defense verdict following a four-week jury trial in Seattle, Washington. Our firm represented the owner of a pulp and paper mill located in southern Washington that was sued by the surviving spouse of a retired union insulator who died of malignant mesothelioma. The suit alleged premises liability against our client based on the allegation that the insulator worked at our client's mill for insulation contractors in the 1960s and was occupationally exposed to asbestos caused by the alleged fault of the pulp and paper mill owner. The two issues submitted to the jury were "retained control" and "business invitee" liability under Washington law. The jury issued a verdict in favor of our client on both theories.
Summary Judgment in Virginia Environmental Class Action - The BBFVH team of David Bienvenu and Lexi Holinga successfully represented a paper manufacturing client in an environmental class action filed and litigated in the United States District Court for the Eastern District of Virginia. In this class action, the plaintiff class sought millions of dollars in individual and class-wide damages alleging that wood dust that escaped from our client's paper mill and another defendant's wood chip mill in West Point, Virginia, created an alleged nuisance and trespass of the plaintiffs' land, homes, and cars. The litigation entailed numerous fact and expert depositions and extensive document discovery. Summary judgment was entered by the federal court dismissing the damages claims. See, Ashton Bell, et al. v. West Rock CP, LLC, 2019 WL 448414 (E.D. Va. 9/18/19).
Defense Trial and Appellate Verdict in Living Mesothelioma Premises Liability Case - Following a trial in November of 2015, the trial team of David Bienvenu and Lexi Holinga obtained a defense verdict representing our client in a living mesothelioma case tried in Civil District Court, Orleans Parish. The plaintiff in the case was diagnosed as malignant pleural mesothelioma and sued our client for premises liability alleging occupational exposure to asbestos while he was employed as a tool room attendant working for a contractor at our client's Baton Rouge refinery. The major trial issues were specific medical causation, whether our client breached any standard of care and the application of worker's compensation tort immunity to the claims asserted against our client. The District Judge pretermitted deciding the first two issues and ruled that our client was the "statutory employer" of the plaintiff within the meaning of Louisiana's Worker's Compensation Act. Accordingly, our client was found to be not liable for the claims asserted based on the exclusive remedy afforded by the worker's compensation. The Fourth Circuit Court of Appeal affirmed the decision of the District Court.
Representation of Plaintiff in Wrongful Death Motor Vehicle Accident Suit – in 2014, David represented a client who received a significant settlement resulting from the wrongful death of her sixteen-year-old son. Our client's son was on his way to swim practice and was killed as a result of head injuries sustained after being rear-ended in a motor vehicle accident. The driver was under-insured for the accident, but our intensive investigation of the accident revealed that the driver was in the course and scope of his employment by a construction contractor while driving to and from a construction site. The accident occurred while the driver was commuting home from the job site.
Betty Bello v. Dow Chemical, Louisiana State Court, August 2010. Lead trial counsel for Dow Chemical in a premises asbestos case. The decedent plaintiff claimed that her peritoneal mesothelioma was caused by take-home exposure from Dow's Louisiana facility. Complete defense verdict. The Court found that plaintiff had failed to prove causation and that plaintiff's disease was idiopathic. This result is one of the few asbestos premises liability cases tried successfully to final verdict in Louisiana.
Alvin Hebert v. Dow Chemical, Louisiana State Court, November 1991. Lead trial counsel for Dow Chemical in a premises asbestos case. The plaintiff claimed that his pleural mesothelioma was caused by exposure as a contractor millwright at Dow's Louisiana facility between 1960 and 1975. The plaintiffs requested $30 million in damages from the jury and were awarded $265,000 on a strict liability finding with no finding of negligence on the part of Dow. Judgment was vacated on appeal and the case was settled favorably.
Representation of Fortune 500 clients in asbestos litigation for twenty-five years and has managed hundreds of cases with a combination of trial results, summary judgments, dismissals, and reasonable settlements.
Trial counsel for a major chemical manufacturing company in a seven-week trial defending claims involving groundwater contamination, property damage, environmental remediation, and punitive damages totaling over $266 million. The trial was in the 18th Judicial District Court, Parish of Iberville, State of Louisiana.
National coordinating and trial counsel for Fortune 500 pool chlorine product liability litigation, including court appearances and arguments in Louisiana, Maryland, Pennsylvania, Mississippi, Virginia, and New Jersey.
In September of 2010, successfully argued Howard v. Union Carbide Corporation before the Louisiana Supreme Court, a decision that reversed a thirty plaintiff trial flight of chemical exposure awards ranging from $31,000 to $3,500, and reduced the awards to $500 - $100 per plaintiff. This decision is a significant victory for defendants who are sued for de minimus injuries in class action/mass tort suits.
Lead counsel in commercial litigation for a Fortune 50 client related to the prosecution of construction disputes, defecting welding practices, deficient quality control procedures in industrial construction, back up battery systems, property damage claims and subrogation product liability actions resulting in highly favorable settlements for the client totaling more than $6 million following aggressive pretrial discovery and motion practice.
Lead counsel for major chemical manufacturing companies in defending multiple occupational disease premises liability suits relating to allegations of occupational hearing loss, benzene exposure, vinyl chloride, and exposure to other chemicals.
Trial and appeal counsel for Louisiana State University in Title IX litigation related to the alleged gender discrimination in varsity athletic opportunities for women.
Education/Background:
Louisiana State University, Paul M. Hebert Law Center, J.D. (1991) (Order of the Coif)
Louisiana State University, Bachelor of Arts, Major in History (1988)
Law Clerk, Judge Frank J. Polozola, United States District Court for the Middle District of Louisiana
Admissions:
Louisiana
United States Court of Appeals for the Fifth Circuit
United States District Court for the Eastern District of Louisiana
United States District Court for the Middle District of Louisiana
United States District Court for the Western District of Louisiana
United States District Court for the Northern District of Mississippi
United States District Court for the Southern District of Mississippi
United States Supreme Court
Associations:
Baton Rouge Bar Association
Defense Research Institute
International Association of Defense Counsel
Louisiana Association of Defense Counsel (Board of Directors – 2011-2013)
Louisiana State Bar Association
Lecturer:
LSU Law School – Instructor in Appellate Advocacy (1993-2004)
Publications:
David M. Bienvenu, Jr., Subsequent Remedial Measures and the Louisiana Code of Evidence: Some Thoughts on Interpretation, 51 La. L. Rev. 1069. (1991)
Defendants Win Verdict in Louisiana Mesothelioma Trial, 33 Westlaw Journal Asbestos 4. (2010)
Recognition & Rewards:
Martindale Hubbell – AV Rated for over fifteen years
The Best Lawyers in America – Class Action and Mass Tort (2006-2020) – youngest attorney selected in Louisiana
Louisiana Super Lawyers – Class Action and Mass Tort (2007-2020)